We've recently returned from a family holiday. Three generations and our fifth trip to Lord Howe Island. For a family who love to be outdoors, enjoying each other's company and eating good food, it's paradise.
Oh and there's no mobile phone coverage and no internet so it's a fully-switched off kind of paradise.
Here are the pick of my photos.
This is the Clever Cookie Photography Circle. Join me in a journey around the circle with photos from fellow bloggers and keen photo snappers. The next step in the circle is Steph's Joy who has also been on holiday.
Neds Beach.
Our favourite beach on Lord Howe is Ned's. I suspect it's a favourite for most families visiting the Island. Perfect for snorkelling, swimming, exploring the rock pools and - as it turns out - drawing pictures in the sand with your grandmother.
Neds Beach Sanctuary Zone
As a special purpose zone you share the surf at Neds with the marine life. You can hand feed - and swim with - mullet, wrasse, garfish, silver drummer, spangled emperor and metre-long kingfish. We've even spotted a Galapagos Shark. Here however we have your garden variety Victorian children enjoying the sun and sea.
Goat House Cave
We hiked with the bigger kids to Goat House Cave, 400 vertical metres up Mt Lidgbird, at the base of the 200 vertical metre cliff that leads to the summit ridge. It's a decent climb requiring pretty good fitness but the kids cruised it. Max is almost at the top here but due to the cloud cover that often hovers around the peaks on Lord Howe, we missed the magnificent view.
Celebration
We made it up the 400m climb. Time for a brief rest, some celebratory photos and a chance to imagine the view before we head back down again.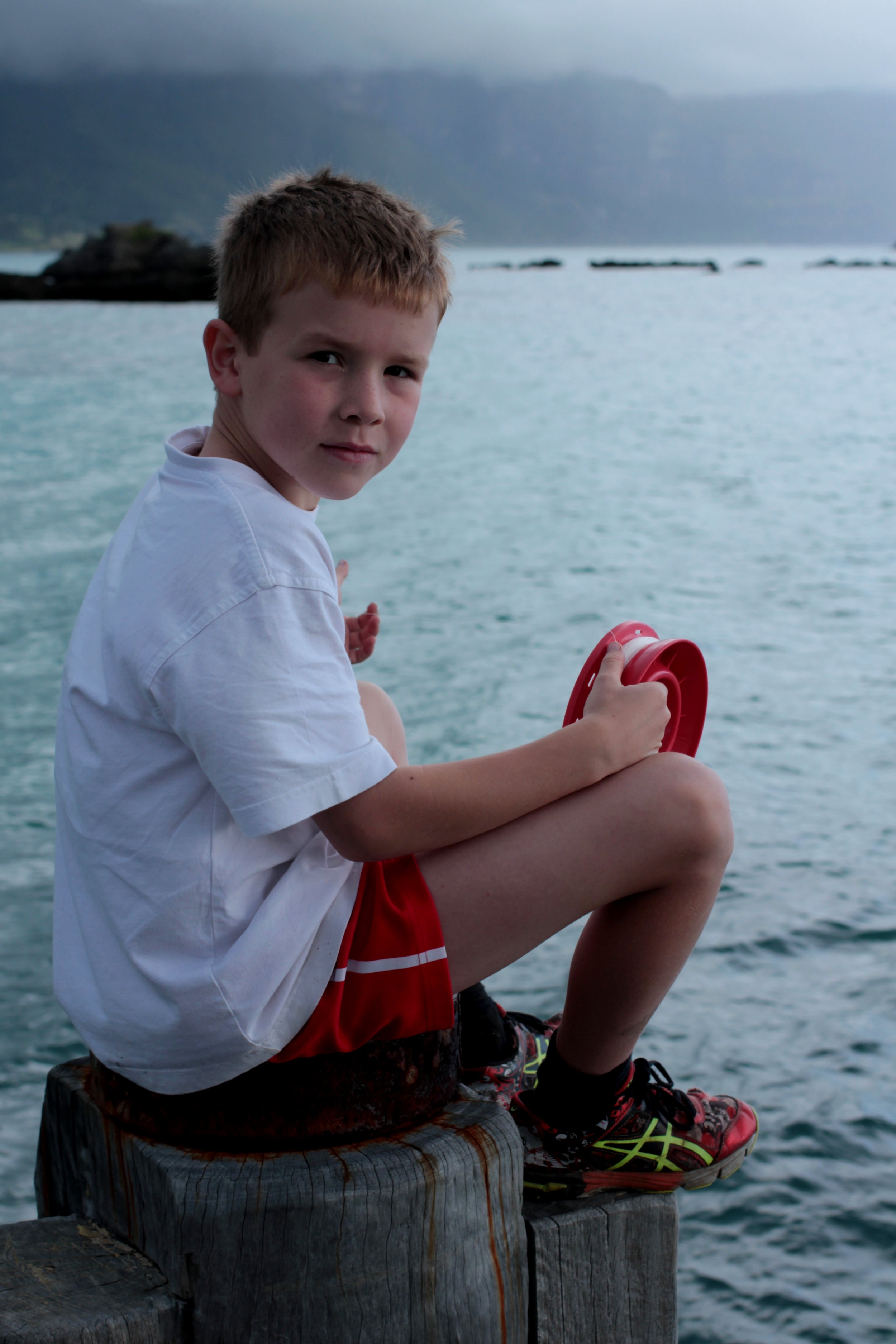 Fisher boy
At only 11km long and 3kms wide, the primary means of transport on Lord Howe Island is bicycle. After a trip to the beach by bike in the morning and another cycle to reach our picnic lunch spot we again mounted two wheels to head to the jetty to catch a fish or two. No luck but our hosts at Pinetrees did have a magnificent dinner waiting on our return.
The artist at work
A week out of the usual routine, with no access to mobile phone or internet and a sense that we were really a long way from anywhere I took time out to read books. On this particular afternoon while I sat and read Island of a Thousand Mirrors on an almost deserted beach, my mum, the only other person there, sat across the beach from me and painted this watercolour. I now have it at home waiting for a frame and a chosen spot on the wall. A special reminder or a most peaceful afternoon.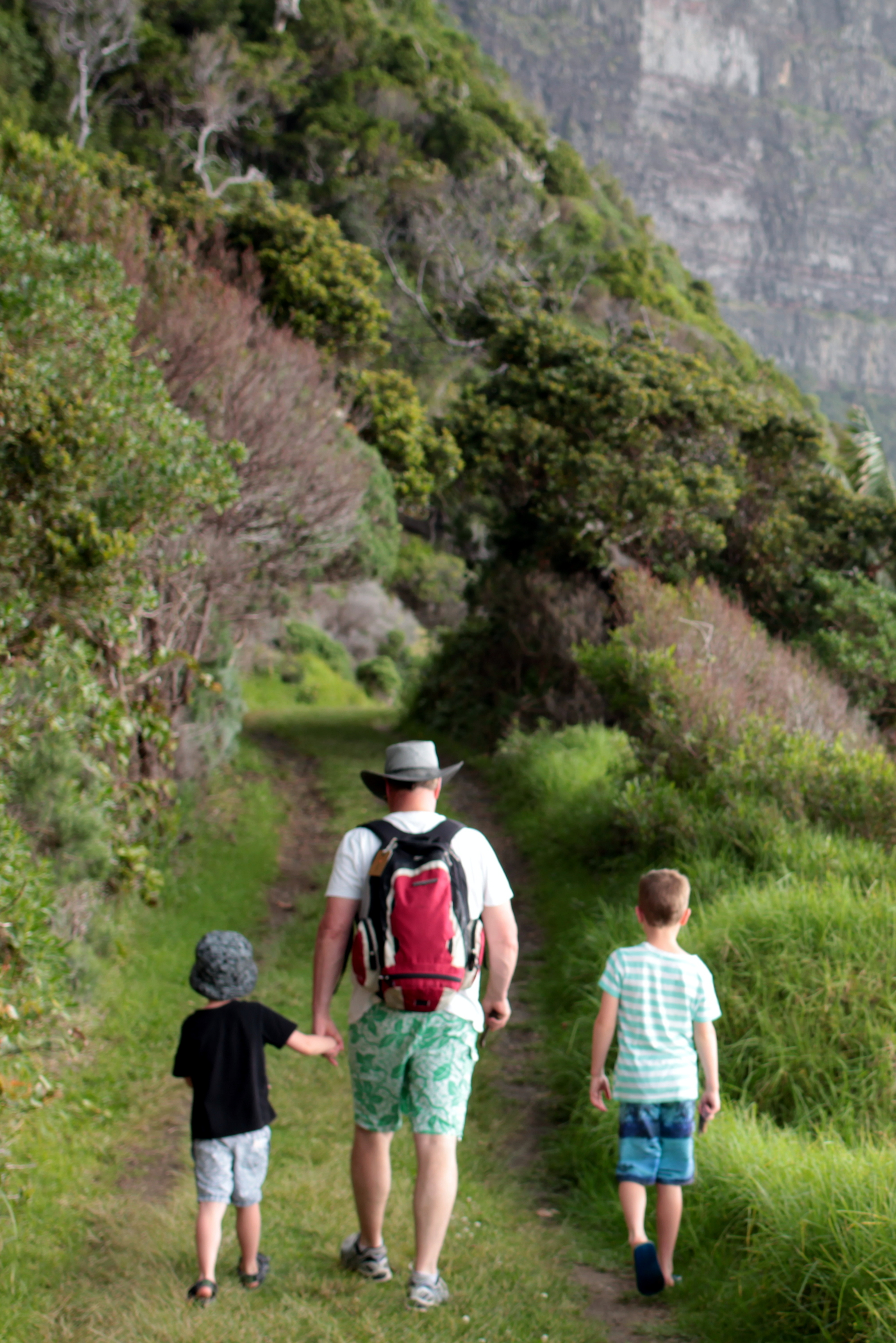 An afternoon walk.
We had 11 family members together for a week and while we separated at times, much of the week was spent together. On this afternoon all 11 of us, aged four to 71, rode to the southern end of the island then walked the path to the base of Mt Gower, the tallest and most spectacular mountain on Lord Howe.
Here's my boys enjoying the adventure.
Stopped for a chat
If you follow the path in this picture towards the bench seat in the sunlight you find Pinetrees' Boat House. The perfect spot to enjoy the sunset with a glass of something bubbly. Here the littlest cousins have stopped for a chat before galloping towards the beach for some pre-dinner play time.

Here's that sunset I mentioned.
Family
I'm cheating a little here as I'm in this photo so clearly haven't taken it. It's tradition that before we depart for the little airport and our flight home we gather on the steps at Pinetrees for the group family photo. Fun times. Can't wait for trip number six.